SOME ASSETS MAY BE MISSING BECAUSE I STILL NEED TO GO OUT AND SHOOT THEM, WIP
^
In The Biiig Biiig City, So Much Larger Than life.
19-28/09/22
Been caught up in the change of lifestyle that I've forgotten to keep this updated rip.

The move-in went well, flatmates are sound, the bed is comfy and the increase in space is welcomed.
Brought most of my HiFi so that's pretty nice and helps it feel like a home.
The cloud server I set up has proved to be invaluable mainly for it's calendar which I've set to integrate itself with my University timetable site, making organisation way easier and cohesive (Although it will never stop me buying physical calendars for the artwork)



I've met all sorts of interesting people here like Mark, my buddy from the Heart Of Glass Club which is a DJ set that plays New Wave, Synth-Pop and Glam (Right up my alley), we got talking about film scores for a while after I commented on his Mark E Smith shirt then we went down into the basement of The Peer Hat, was a bit nervous at first but I got into the groove of things and it turns out I'm a really good dancer, not to pat myself on the back or anything :) The Peer Hat, the venue of HOG and also what I didn't know is the epicentre of the local music scene.



On my second or third day here I went to Vue Printworks to see the new David Bowie documentary (which was phenominal) and got chatting to Eric and his wife since I got there early, they were both in their late 50s/60s and were big Bowie fans, even went to see him a few times. We had a great conversation about Bowie, our favourite eras of his stuff, who he worked with and our thoughts on his albums and IMAX cinemas, we watched the film on an IMAX and I've never even seen an IMAX screen before let alone watched a film that I've been excited to see for this long on it, Eric was saying it's a completely different viewing experience and he was right, even just looking down to the bottom of the screen from the walkway is like looking down from a two story building, the big screen paired with a fab soundsystem really made the viewing experience one to remember, no form of home viewing will be able to replicate that experience. I was going to save the ticket as a keep sake but I've put it down in my flat and it's been about a week and I still havent figured out it's where abouts.


I met Steve Timms, a Pop artist working in the HOME cinema, he makes Pop Art and he gave me a postcard! he was a bit introverted but we got talking about art after I asked what he was reading, i mentioned id just been upstairs with my camera (D90) to take a photo of some art which was on display (you can view it below!) [image i took of some art i liked at the HOME cinema art gallery]



I met Ollie working a cafe in Afflecks called "Ginger's", I walked in and noticed that I recognised the music, I sat there just listening only to realise that it was Not In Love by Talking Heads, I mentioned that I liked the music and he said he noticed the T-Shirt (Talking Heads shirt), we got talking and he said that he just stuck whatever he wanted on, he just happened to be listening to Talking Heads' entire discography that day (I can't imagine Speaking In Tongues makes good cafe music but power to him). After ordering a double Vanilla ice cream I mentioned that I was doing some promotion for Heart Of Glass and that with his music taste it might be something he'd be interested in;
He said he knows The Peer Hat and that it's the finest venue in the city for local stuff, then he mentioned that he plays in a band and that they'll be performing there later that day at 7PM, I asked him what he played and what sort of music they do and he said they # always change instruments to keep things sounding fresh. He then proceeded to show me a big suitcase with tons of shit in it but also a Korg Micrologue, I jokingly asked if he was living in the shop. Gary Fisher also dropped by to speak to Ollie (both members of Rodney), we introduced ourselves and shook hands, said I was coming to the gig later that night and it was very intruiging.

There was also another band meant to be playing but they were unable to so Reuben (the bartender working at The Peer Hat with the tinfoil hat, is that the peer hat???) hosted a jam sessions letting people use the instruments that were set up on stage, I shyed away from the vocals at first after being asked up (I was putting my drink on the table admittedly) but after he was looking for someone else to play an intrument I presented myself and was surprisingly comfortable on stage (no longer sweating buckets as per usual, although I was wearing my uber cool converse sunglasses), when I got on stage i reached for the first thing I saw, the bass guitar, always been shit at normal guitar and the bass is no different, however, this time I was at the gig with my hearing protection (after being absolutely thrashed at Heart Of Glass a few days prior, which might I add, I had an absolute blast at) meaning that I could barely hear myself play.

So there I was, playing bass guitar on stage for the first time, with people who were also playing instruments for the first time, that was pretty fun and a good laugh for all of us.

Then after a few acts Rodney came on, Ollie sounded like Jim Morrison, Gary Fisher sounded like David Firth (voice actor of Salad Fingers) both with lyrics that sounded like they were stolen from Mark E Smith, the whole thing was bizzarre, unique and interesting. I loved it. I spoke to Ollie and Gary afterwards, Gary was saying that they've written about 60 songs but only recorded 3 or so because they write new stuff for each gig and to them it's more about the performance which is pretty respectable, if not a little disappointing. They also had a Casio PT-30 from 1983 that played the backing synth track to Cameron (I DRINK ALL THA TIME, AND YOUU CAN'TT STOPP MEEHHHH) I loved the janky, monophonic sequenced backing track so much that I went on eBay later that night and bought one for myself (as of 30/9/22 it still hasn't arrived but I'm looking forward to tinkering with it)




At the Rodney gig there was also a couple of mini art stalls, bought some art from someone around my age named Conor, you can find a picture below, I quite liked the look of it.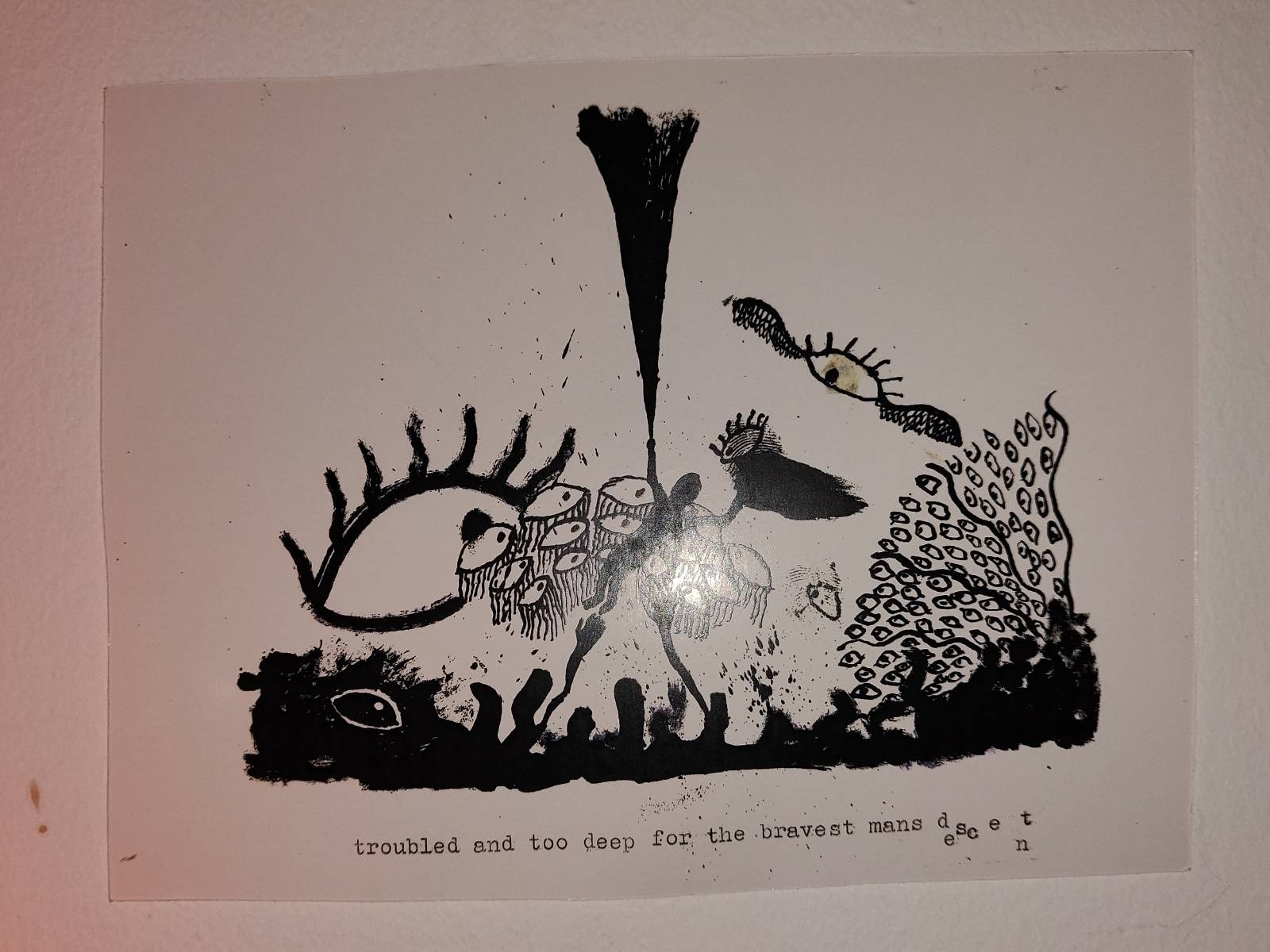 I also met George and Frank two ex students who work at the same place, George working the bar at Another Heart To Feed whilst Frank wasn't working but was hanging out with George on his late shift playing Chess. I was going to go for a pint (of water) at The Peer Hat since I had nothing better to do but it ended up being shut so I biked up to Matt n Phreds to see how that was and wasn't a huge fan so, riddled with cold and lacking any tissues, I went in search of a restaurant or bar that I would feel comfortable asking for a tissue in, eventually after some hesitation and a small donation to a homeless fella, he pointed me to ANHTF after asking if I was lost, saying "Ahh yeee, they'll sort ya out sonn".

So I went in and we got talking, Frank (who didn't look very much like a Frank) was playing Mini Metro on his Macbook, I thought I might as well sit down since I'll only be going back to my accomodation, it turns out he studies Journalism and actually writes for a local newspaper whilst George studied mechanical engineering, we got talking about drinks and I mentioned how I just don't really like the taste of alcohol, they offered me a martini on the house but they didn't have any ice however they said a Coke and Vodka would suit me right, and it was alright. I don't think I'd go out of my way to drink it but I'm thankful for the experience and they made my night a lot more memorable. Me and Frank also got talking about my websites after mentioning that I'm studying music but I did computing before, so I showed him my Photography portfolio, said I definitely ought to keep the web dev up as it's a good skill to have and can provide me with a steady job which is good advice.